Tableau Total Cost of Ownership. 
Two industry analysts show Tableau has a lower cost of ownership than alternatives
"I can tell you that easily it runs into 10,000-20,000 man hours in terms of productivity generated because of the automation and standardization you get out of Tableau. But more than that, to me it's the business value—and you cannot really put a price on it."
The cost to deploy Modern BI platforms like Tableau is 39% lower per user over three years compared to "megavendor" solutions.
The cost to deploy Tableau is 29% lower than Power BI. Lower cost was attributed to efficient data analysis and exploration.
Why you should look at your solution's total cost of ownership
The pace and evolution of business intelligence solutions means what's working now may need refining tomorrow. From natural language processing to the rise in data insurance, we interviewed customers and Tableau staff to identify the 10 impactful trends you will be talking about in 2018. Whether you're a data rockstar or an IT hero or an executive building your BI empire, these trends emphasize strategic priorities that could help take your organization to the next level. Where are things headed next? This paper highlights the top trends for 2018 including:
How Machine Learning Will Impact the Analyst
The Natural Language Processing Promise
The Future of Data Governance is Crowd Sourced
The Multi-Cloud Debate
Additional trends on data engineering, the liberal arts impact and more…
You might also be interested in…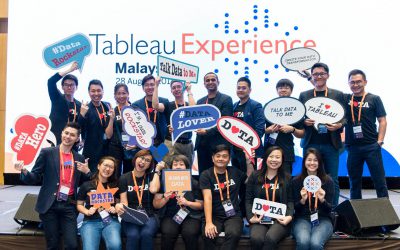 2018 Tableau Experience Malaysia, the coolest event for data lovers. In 2018, Syntrino Solutions Sdn. Bhd. received the Tableau Silver APAC Partner Award recognising its work in developing businesses in the region through Tableau Syntrino Solutions Sdn. Bhd. ...
read more